Poppy Seeds USA Shipped
Poppy Seeds – California Poppy USA Shipped (Eschscholzia Californica) – The bright orange California Poppy wildflower was named for doctor-naturalist Johann Friedrich Gustav von Eschscholtz who was the surgeon for the Russian expedition team that dropped anchor in San Francisco in 1815 in a bay surrounded by hills covered with the golden flowers. The wild flowers were designated the state flower of California in 1903, and now are protected by state law prohibiting anyone from picking or destroying them when they are growing on public property.
Despite its mild-weather origins, California Poppy seeds will grow quite well in cold climates, but only as an annual. Poppies can be used in beds, borders, and in naturalized settings, but generally they do not do well in containers. The foliage is attractive, finely divided and lacy with a bluish-green color. The Poppy flowers close at night or in cold, windy weather and open again the following morning, although they may remain closed in cloudy weather. The Poppy plants require full sun and good drainage to flourish, so they are particularly well-suited to rock gardens and dry, sandy soils. Because the plants develop a deep taproot they do not transplant well, and therefore the wildflower seed should be seeded directly in the garden where you want them to grow.
California Poppy Care: Deadhead spent flowers to prolong blooming and enhance the appearance of the plant. Removing spent flowers and seed pods will also reduce re-seeding. You may use a low nitrogen fertilizer like a 3-18-18 liquid fertilizer to promote good root growth without the additional foliage growth.
The indigenous California Indians used this poppy as both a source of food and medicine. Several groups boiled the plant, or roasted it on host stones, to eat as a green. The Costanoan Indians rubbed a decoction of the flowers in the hair to kill lice; the Indians of Mendocino County used a poultice of fresh root for toothaches and a topically applied extract for headaches and sores; and Cahuilla women used the pollen as a cosmetic and the whole plant as a sedative for babies. Medicinally, California poppy is a plant with sedative, analgesic and antispastic activities, but unlike the alkaloids of the opium poppy, it does not seem to induce tolerance and dependence. It is touted by some for the treatment of anxiety and to induce sleep in patients affected with insomnia.
California poppies require full sun and good drainage to flourish, so are particularly well suited to rock gardens and dry, sandy soils. Because it develops a deep taproot they do not transplant well, and therefore should be seeded directly in the garden where you want them to grow. Although very small seedlings can be transplanted with care, self-seeded volunteers may be of inferior quality (particularly if they came from a hybrid variety).
Direct sow California poppy early in the spring, about the same time you would plant radishes. Rake the soil to prepare the seed bed, cover the seed about ¼ inch deep, and keep the soil moist after planting until the seeds germinate in 1 to 3 weeks, depending on the temperature. Thin to about 12 inches apart. Decrease watering (if that's possible in our often rainy summers) after the plants begin to flower. Deadhead spent flowers to prolong blooming and enhance the appearance of the plant. Removing spent flowers and seed pods will also reduce re-seeding. Fertilization is not recommended as it promotes foliar growth over flowering.
Powerful pollen producer
The California poppy attracts a variety of bees, particularly bumble bees, honey bees and sweat bees, and is mainly pollinated by beetles. After the flowers are gone birds are attracted to the seeds.
Easy to Grow
Preparing soil and sowing seeds

You need to plant your California poppy seeds in rich, fast-draining soil with access to ample water and full sunshine. Covering the seed about 1/4 inch deep. If you have less than those desirable conditions, you are in luck because they can adapt to poor soil conditions and some periods of drought. You could improve poor soil conditions by working a shovelful or more of well-aged manure or organic compost into the soil, which needs to be done prior to planting.

Germination

Poppies don't like to have their roots disturbed, so it's best to sow seeds directly in your garden in the early spring when the soil is cool. They will need to be sown from 6-8 inches apart in all directions. You could also sow them in the fall before the ground freezes. Look for the seeds to germinate in 10-15 days and the plants to reach maturity from seed to flower in 60-75 days.

When it comes to fertilizer and poppies, less is more. Poppy plants require very little fertilizer. Overfertilizing will cause them to produce more leaves and fewer flowers.
How long should I expect Shipping to take?
All Kratom leaf will only ship out Monday – Wednesday. Customers can select either 2 -day Priority USPS Mail or expedited Shipping. Our friendly staff members will ship out your normally by 2 pm. Each order will receive a notification and tracking number once the order goes out. Before contacting our staff we recommend that you check your email and spam filter encase you might have missed us. Our staff can be reached at our Email us. A member of our helpful staff would be more than happy to talk with you anytime.
What happens if there is an issue with you order?
We guarantee to get to your leaf to your door healthy and green. But, sometimes things can happen. If there is ever an issue with your order please contact our team immediately. We ask that you  email us at kozykratom@gmail.com it is helpful if you also include a photo of the situation. Our helpful staff will try to respond within the hour.
---
Kratom Watchdog Android & IOS
Have you heard of the Kratom Watchdog app? Kratom Watchdog is a kratom social network built from the ground up by one of the founding member of the non-profit American Kratom Association (AKA). A booming social community with a focus on kratom advocacy. Kratom Watchdog is the oldest kratom social media platform online. With over 400 videos and over 200,000 photo's from our own kratom Nursery. And 7,000 members we have a very strong growers community that are always willing to help. Kratom Watchdog is available on Android, IOS, and at kratomwatchdog.com. We are a small self funded development studio. If you would like to donate to the development of the platform we would appreciate it. Thank you for your continued support.



---
The NFC Project – Help Document US Kratom (Free NFC)
The NFC Project – Our goal is to merge tech with kratom to document every single aspect of these amazing trees. We are happy to announce our kratom documentation program the "NFC Project". This projects is a step forward in  kratom documentation.
On Kratom Watchdog we are working to document our kratom nursery. We upload every single interaction from our staff has with our American kratom nursery.  Tracking how much & how often we water or fertilize. Our system then records up to the minute weather conditions using weather API's.  When working with the nursery, staff will also take photos or video with the plants. Collected information is uploaded to the corresponding trees specific profile page on the Kratom Watchdog app.
If you would like to apply to be a part in this project you can here. Or you can contact us here.
---
3D Drone Mapping American Kratom Nursery's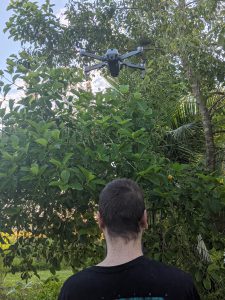 Taking to the sky! Utilizing drones, we are able to document our American kratom nursery's from a different angle.  These drones are able to 3D map our kratom nursery using a technology called LIDAR. Applying these 3D models into our Kratom Avatar Chat Kynto. Our goal is to map out our entire nursery and insert the nursery into the world for users to interact with these trees. Allowing them to take guided or self guided tours. The cool part, is that we can then translate that information into virtual reality (VR). Available on the PlayStation VR, Oculus Platforms, and Google Cardboard.
We will be opening up our tools and software to allow other nurseries and growers to map out their kratom nursery. Interested in having us out to document your nursery? Contact us here or contact us on the Kratom Watchdog app.