Kratom Cuttings (3 for 1) Rooting 6 inches long
We process the Kratom Cuttings, clean it, and apply rooting hormone before placing it in a ziplock bag with a plug.
As the only all AMERICAN CO-OP to make Kratom cuttings available for year round shipping. We have a large selection of vein types, and unique geological sources. Unrooted cuttings are our way of making Kratom cuttings and Kratom cultivation affordable for all. We even apply the rooting hormone for you, all you need to do is keep them in their sealed bag, and ensure they get indirect light.
Guaranteed to get to your door green and healthy, or we will reship as is our policy.
How we process our unrooted Kratom Cuttings
Our lush Kratom cuttings come from our organic American Kratom Nursery. As a U.S. kratom nursery we are focusing on growing kratom and advocacy. Our kratom co-op has a goal to help ensure American kratom as a main source for the United States. Each of our trees branches are pruned almost daily by our friendly staff.  We treat all of our kratom cuttings with the love and care they deserve.
https://odysee.com/@kratomthetree:f72/kratomapp-ad:8?r=5KrEisStLdxyD8bMHf1GerDctnTps69q
The Kratom Bible is also available here on the #kratomAPP

You can try the leaf from the trees your very cutting came from right now.
How We Process Unrooted Kratom Cuttings
When we process our kratom cuttings we always follow the same process. First, we take the cutting off the tree and clean the nodes and extra leaf off of each cutting. It is important to note that kratom cuttings do not require leaf on the cutting to produce roots. In fact, having large leaf on a cutting can be  a disadvantage as leaf requires larger water consumption from the cutting. This is why we cut our leaf into a triangle shape.
The next step requires adding rooting hormone. We have found that the best way to ensure rooting is to use a lot of rooting hormone. As much as possible. We strive to ensure that each cutting has the highest success rate possible.  After adding rooting hormone the next step is to place the cutting in the soil medium. Weither it is peat pods, soil, or peet pods a good soil medium will be required to allow these plants to succeed. You can even grow these plants hydroponically, however we will be providing the rooting medium. If you are planning to grow hydroponically do add more rooting hormone after taking out of soil medium.
The Kratom Bible is also available here on the #kratomAPP
How high should the humidity be?
Lastly, we add the cutting to a plastic Zip Lock like bag or you can take them out and put them into a very large plastic container. Regardless of how you are rooting them you need to ensure that the plants are kept in high humidity at all times. Do not leave the cuttings out of the bag for more then 20 min at a time. These plants require 80 – 100% humidity at all times.
How long should I expect Shipping to take?
Unrooted kratom cuttings can be taken the same day they ship. All Kratom cuttings will only ship out Monday – Wednesday. Customers can select either 2 -day Priority USPS Mail or Expidited Shipping. Our friendly staff members will ship out your normally  by 2 pm. Each order will receive a notification and tracking number once the order goes out.
You can try the leaf from the trees your very cutting came from right now.
Setup instructions
It is important to note to make is: Do not grow these plants like other types of plants. For example these are not tomatoes and will not thrive in the same conditions tomatoes grow in. These Kratom cuttings are rain forest trees. Kratom trees require high heat, high humidity, and lots of water. One of our customers  did a walk through on how to root kratom cuttings we recommend you check it out.
Please do your research and ask questions. A great resource to use is our #kratomAPP KratomWatchDog. 
The Kratom Bible is also available here on the #kratomAPP
For best results inflate the ziplock bag and place it under a strong indirect light source. We get decent results just relying on a South facing window but, see much better results under some sort of bright indirect light (LED, Fluro, HPS).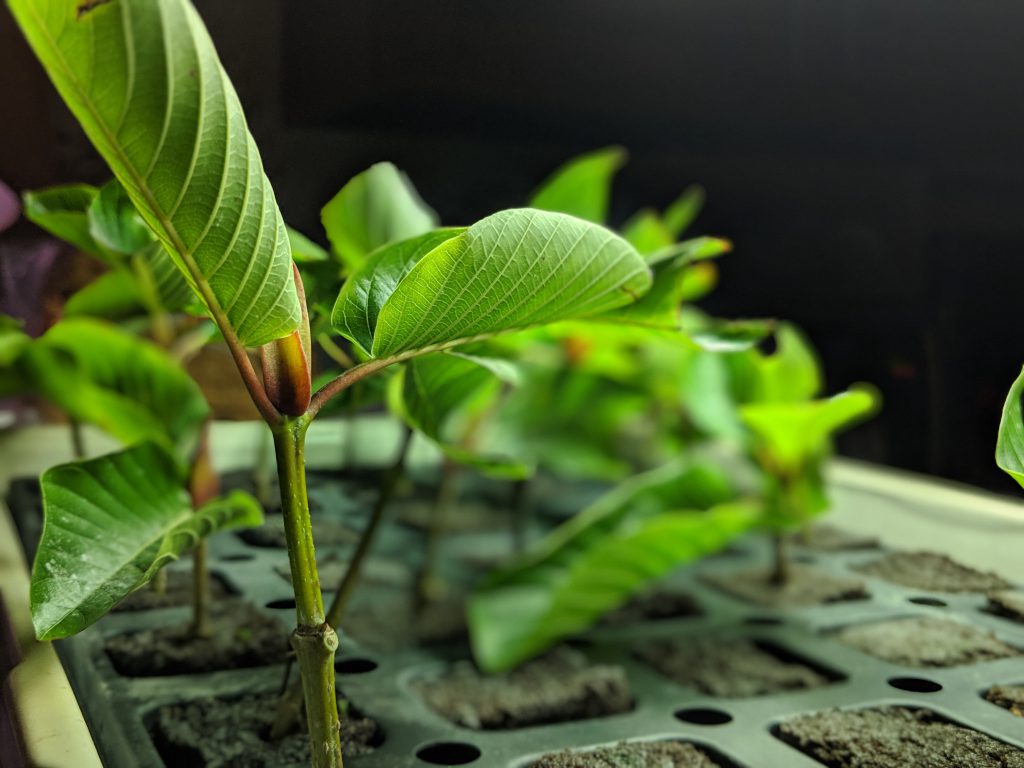 Lighting Options
Artificial lighting methods allow for quicker rooting. However a South facing window will suffice.
The Kratom Bible is available here on the #kratomAPP

How often should I water unrooted kratom cuttings?
Customers should  leave the plastic bag these cuttings come in sealed at all times they should not be releasing moisture. There should be no need to water these cuttings. In the event the soil medium begins to firm up it is advised to mist or pour a table spoon or two of water. The soil medium should always be moist to the touch at all times. Even one night of a dried up soil medium will kill a plant seeing as they are so young.
What happens if there is a issue with my order?
We guarantee to get to your cuttings to your door healthy and green. But, sometimes things can happen. If there is ever a issue with your order please contact our team immediately. We ask that you  email us at kozykratom@gmail.com it is helpful if you also include a photo of the situation.
The Kratom Bible is also available here on the #kratomAPP
NFC Project – Help Document US Kratom (Free NFC)
The NFC Project – Our goal is to merge tech with kratom to document every single aspect of these amazing trees. We are happy to announce our kratom documentation program the "NFC Project". This projects is a step forward in providing kratom growing information to a entire community.
On the #kratomAPP Kratom Watchdog we are working to document our kratom nursery. We upload every single interaction from our staff has with our American kratom nursery.  Tracking how much & how often we water or fertilize. As well as recording up to the minute weather conditions using weather API's.  When working with the nursery, staff will also take photos or video with the plants. Collected information is uploaded to the corresponding trees specific profile page on the Kratom Watchdog app. Organic American Kratom Leaf is available here for purchase.

3D Drone Mapping American Kratom Nursery's
Taking to the sky! Utilizing drones to document American kratom nursery's from a different angle.  We are using the drones to 3D map our kratom nursery. Applying these 3D models into our Kratom Video Game for the Kratom Watchdog app. Our goal is to map out our entire nursery and insert the nursery into the game world for users to interact with these trees. We will also be creating and implementing drone swarming API's to film and record multiple trees using multiple drones at the same time.
We will be opening up our tools and software to allow other nurseries and growers to map out their kratom nursery. Interested in having us out to document your nursery? Contact us at kozykratom@gmail.com or contact us on the Kratom Watchdog app.
The #KratomAPP
Join us on our #kratomAPP on KratomWatchDog We are a Kratom social network built from the ground up by one of the founding member of the non-profit American Kratom Association (AKA). A booming social community with a focus on kratom advocacy. You can also find us on our Facebook Group Kratom The Tree or email us at kozykratom@gmail.com We are more than happy to talk with you anytime, and share our experience. Organic American Kratom Leaf is available here for purchase.

| | |
| --- | --- |
| Weight | 1 oz |
| Vein Color | Green Vein, Pink Vein, Red Vein, White Vein |
Are the cuttings Organic?
The mature trees are very resistant to pests, and as a result haven't required the application of any chemicals. The trees are fertilized with a fish emulsion every 3 – 4 months
How are cuttings packaged
The cutting is shipped inside of a soda container that has been split in half. This method is effective at preventing shipping damage
Do you guarantee arrival 
Yes! Every plant order is backed up with a reship guarantee. We also take a picture of your plant or cutting before shipping, and email it to you!
How long does Kratom take to root
It can take up to 3 – 4 weeks, even in optimal conditions
How often do you ship the cuttings
We ship M – W for our cuttings and plant selection. We want to ensure that your plant doesn't sit around without you.
Do you apply rooting hormone to unrooted cuttings
Yes!